The MultiSystem might be one of STIHL's lesser-known products, but the MM 56 is the perfect garden or allotment multi tool for you if you have lots of different jobs, like lawn care, soil cultivation or sweeping surfaces.
Using the same petrol engine as the one used in the STIHL KM 56 KombiEngine, the STIHL MM 56 MultiEngine is controlled via the multi-function handle. This allows the engine to be started, stopped and adjusted with ease as all of the controls are at your fingertips.
The frame on the MM 56 folds over quickly and easily, even with a MultiTool attached, and it has a useful transport handle so it's easy to load in and out of cars, vans or trailers.
What really makes the MM 56 such a fantastic garden or allotment multi tool is the wide range of attachments that are available for it. There are 7 to choose from…
This attachment is designed to break up heavy, loamy soil. It's ideal for re-cultivating flower or vegetable beds and loosening soil as well. It has a working width of 22cm.
This attachment also has a working width of 22cm, but this is designed for more precise work. It spreads fine, sandy soil and crumbles sods of earth down. It's ideal for marking rows in the soil as well.
The FC-MM tool is able to create clean edges to your lawn by cutting deep into the ground, reaching buried roots. It's also useful for cutting out patches of lawn to be removed or moved as well.
This attachment is perfect for improving grass root growth by perforating the surface of the lawn. This allows air to get to the roots and it means you can get the right amount of nutrients and air into your lawn. It's ideal for use in the autumn months.
With a working width of 50cm, this dethatching MultiTool attachment removes matted growth from the lawn. It's ideal for clearing large patches of moss and comes with a guard as well.
This attachment is perfect for sweeping footpaths and roads. It can clear dirt, sand, small stones, wet leaves and even snow efficiently from paths and walkways.
The final MultiTool attachment is this sturdy bristle brush that can remove dirt from paved areas, paths and driveways. It's able to clear ingrained dirt and stains which are difficult to clean and it comes with a guard extension as well.
The MM 56 comes with a wheel kit as standard too. We recommend you use this with the MF-MM dethatcher, the KW-MM power sweeper and the KB-MM bristle brush, as it allows the MM 56 to be lifted slightly from the ground, which in turn reduces resistance from friction when you are using the machine. It also means that you'll be able to manoeuvre the MM 56 more easily too.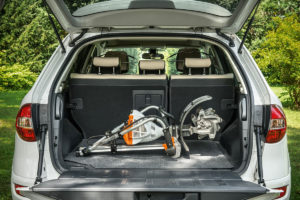 The MultiSystem is an easy to use power tool that can help you get plenty of jobs done, so you can have a picture-perfect garden or a productive allotment in time for the growing season. To find out more visit our showroom or contact us for more information.
Credit: Stihl